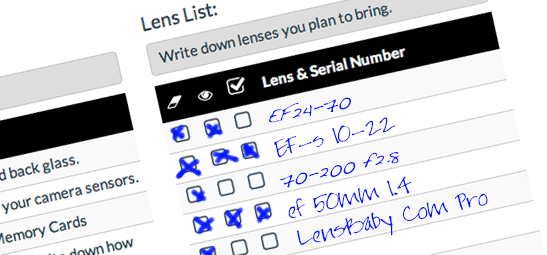 Photography Packing List
00021
Product Details
Checklists are lifesavers. Checking a list can make sure you don't arrive in Belize with a perfectly good camera and tripod -- but no tripod quick release plate.
The 24Moves Photography Travel Packing List
About once a year, I update my photography checklist just before taking a photography trip. This year, I added a few additional checklist boxes to help make sure I remember some important details. For example:
CLEAN - a reminder to wipe memory cards and clean lenses
TEST - to make sure I'm not packing any heavy gear that is impossible to use
FULL BATTERY - its important to pack batteries, but charging them is pretty key too
CHARGER - once the battery is charged, pack the charger
BAGGAGE - a reminder of which items I can "check" and which I should "carry on".
It's not just a checklist!
The checklist also has room for your equipment serial numbers. Once you are all packed and ready to go, you can include the checklist with your important documents. If anything is lost or stolen, you have a ready-made inventory -- including identifying digits -- to provide authorities and/or your insurance company! You won't have to wait until you get home to find serial numbers before calling to file a police report.
Bonus! It's free!
Just like every year, I'm happy to make my check list available for friends, family and HoustonPhotowalks.com Members -- anyone that can use it! So print it out and get to cleaning, charging and packing!
If you find this useful, post a comment to say hello and let me know!!
Bon Voyage!
Save this product for later